You will find on this page a selection of press articles published in several issues of magazines specialized in automotive parts. You have the possibility to download the articles to consult them.
ALGERIA RECHANGE / March 2020
Kaci Hamrioui and Bachir Bendjeddou, the general managers of PRINZ have combined their skills and know-how to the benefit of the distribution of products dedicated to the aftermarket in Algeria (among other destinations …).

A duo of shock at the service of the Aftermarket of true professionals.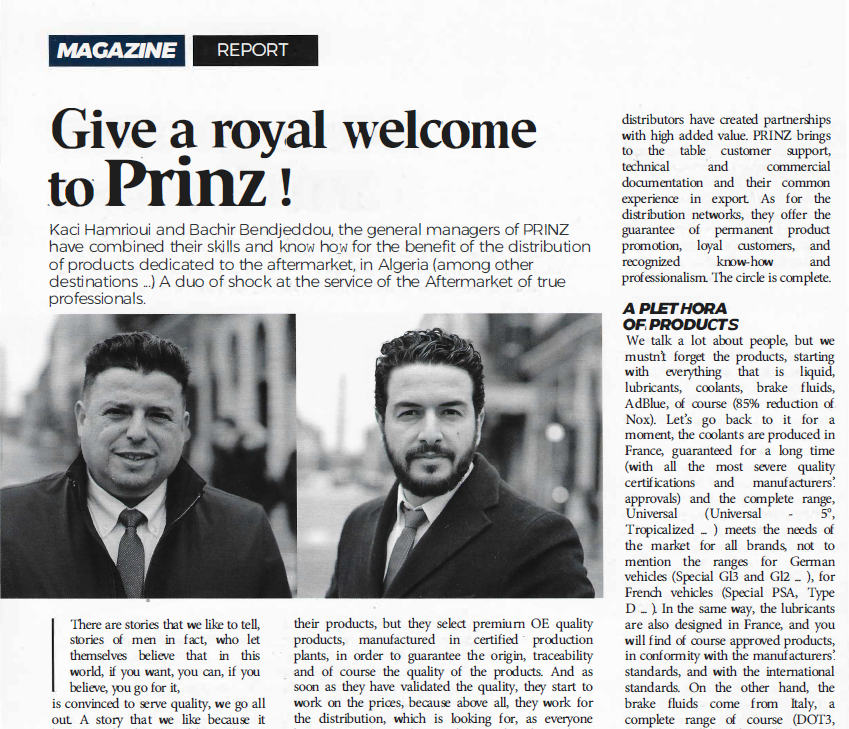 TUNISIA RECHANGE / May 2021
On a growing lubricants market in the Maghreb, suppliers are constantly
are constantly highlighting their assets to better promote their products to distributors and their products to distributors and resellers. To do this, each
strategy: highlighting the industrial tool, relying on recognized labels or
or communicate more and more on all channels…
Here are some examples from 3 lubricant companies.
TUNISIA RECHANGE / May 2021
New range, new partner and not the least, new area …
Prinz does not do things by halves and launches a new challenge, this time in filtration in filtration, a job well known by Kaci Hamrioui who returns, there, to his first love… Story.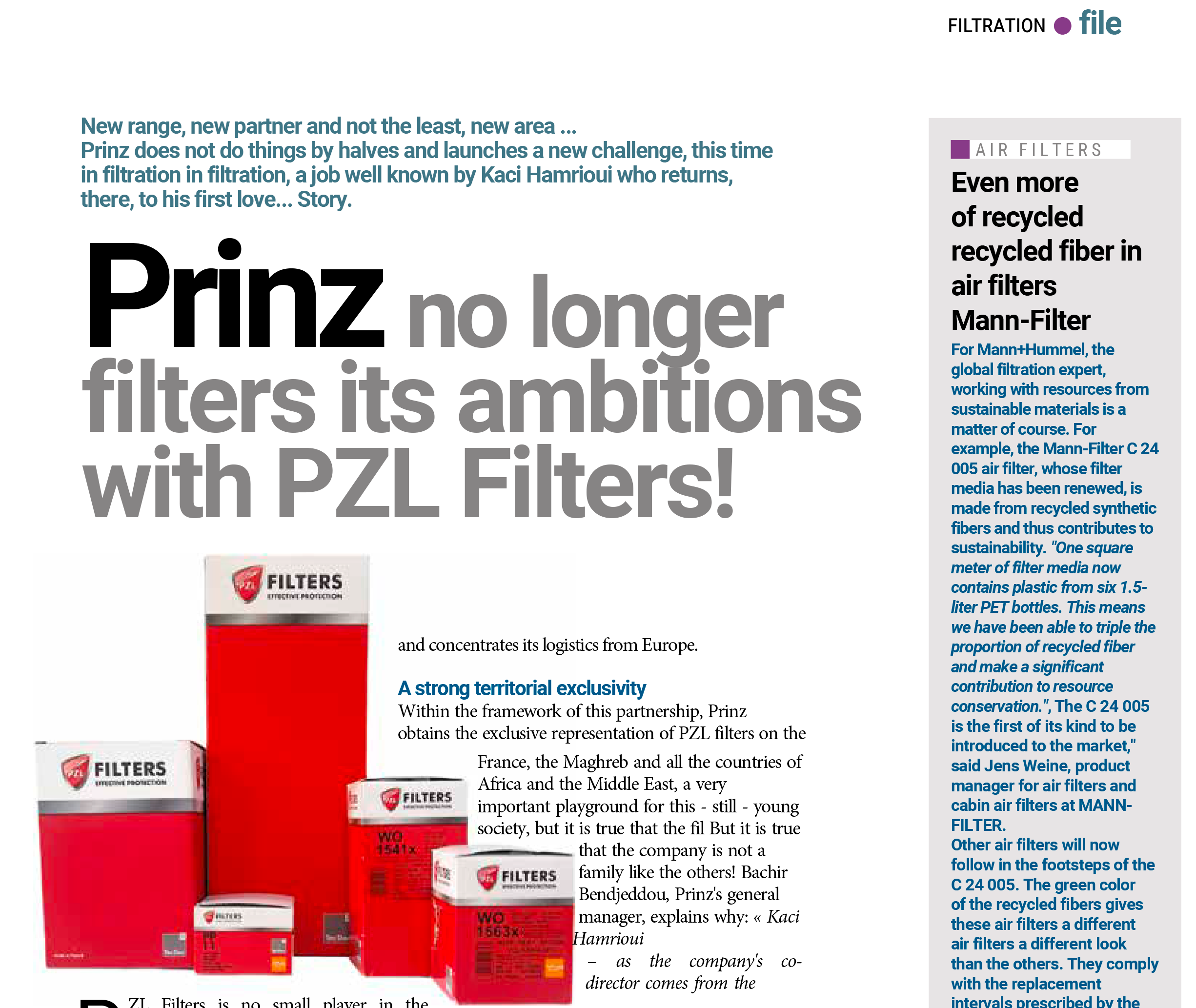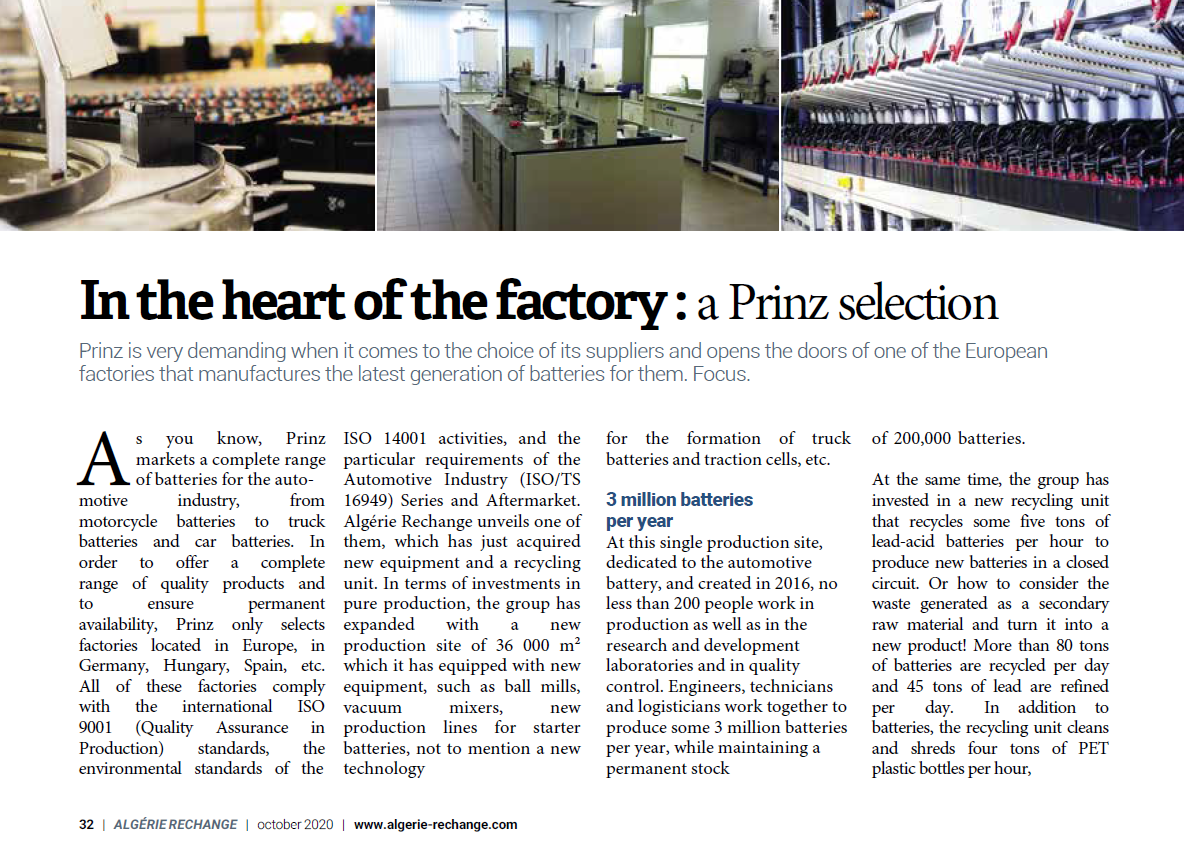 ALGERIA RECHANGE / October 2020
" In order to have a complete quality offer and to ensure permanent availability, Prinz only selects factories located in Europe, Germany, Hungary, Spain, etc. All these plants comply with the international standards ISO 9001 (Quality Assurance in Production), the environmental standards of the ISO 14001 activities, and the specific requirements of the Automotive Industry (ISO/TS 16949) Series and Spare Parts.

Algérie Rechange unveils one of them which has just acquired new equipment and a recycling unit. In terms of investments in pure production, the group has expanded with a new production site of 36,000 m² which it has equipped with new equipment, such as ball mills, vacuum mixers, new production lines for starter batteries, in addition to a new technology for the formation of truck batteries and traction cells, etc. "
ALGERIA RECHANGE / July 2020
Although demand has mechanically decreased due to the COVID-19, Prinz has been able to
maintain its rank thanks to the launch of new ranges, officialized at Equip Auto Alger.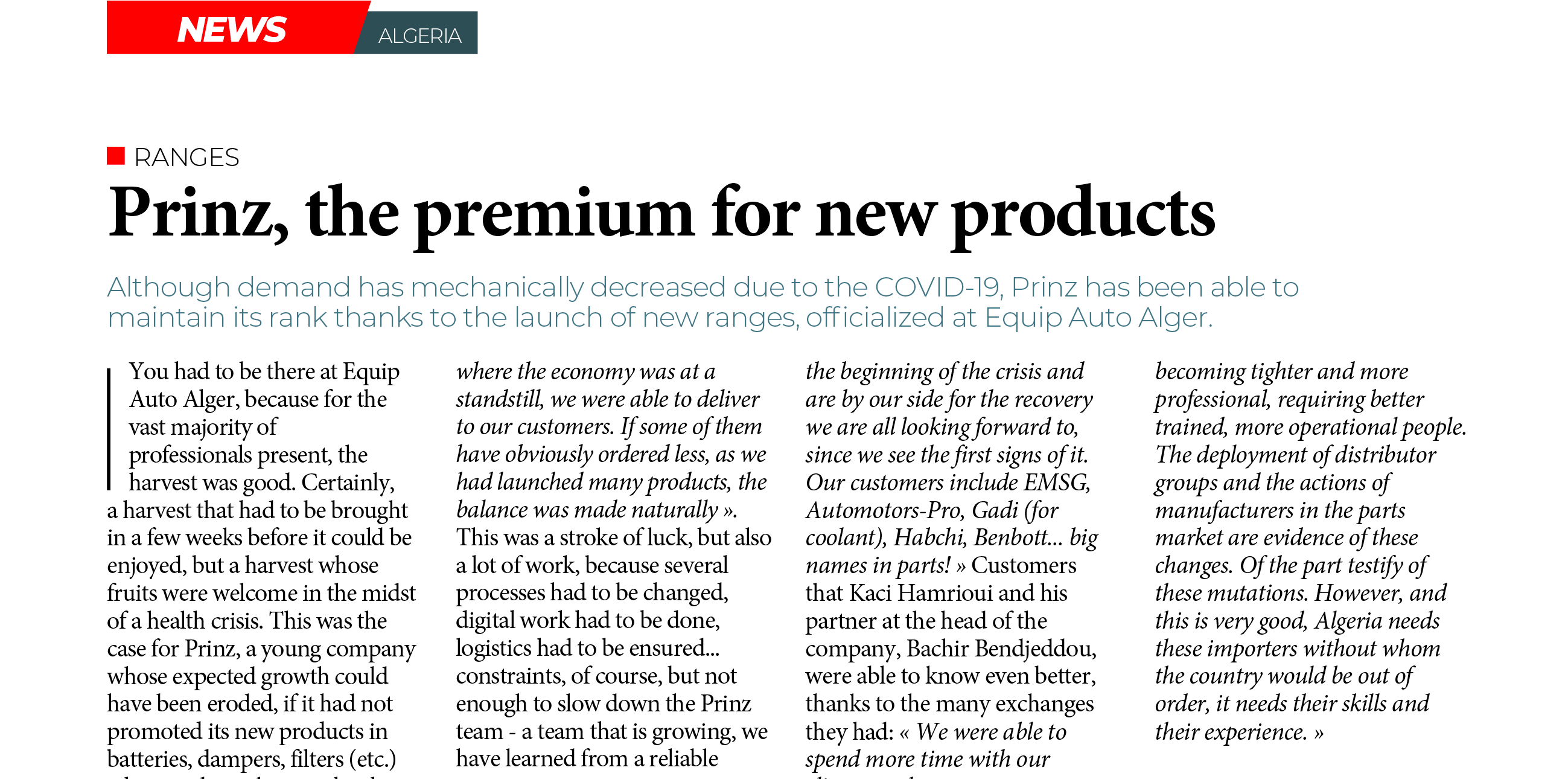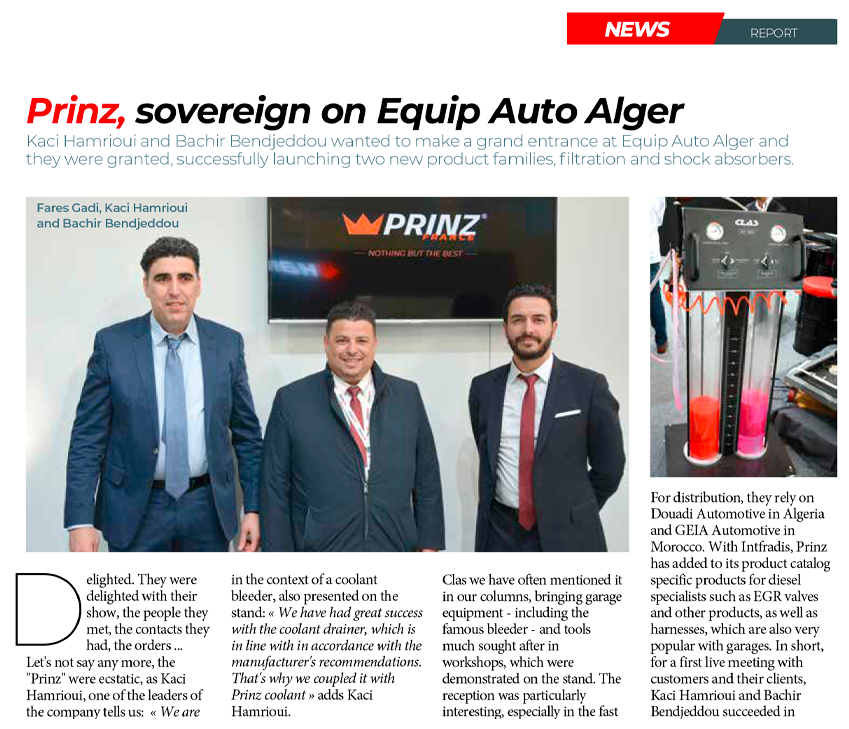 ALGERIA RECHANGE / July 2020
Kaci Hamrioui and Bachir Bendjeddou wanted to make a grand entrance at Equip Auto Alger and
they were granted, successfully launching two new product families, filtration and shock absorbers.
ALGERIA RECHANGE / July 2017
Present at the stand PRINZ EQUIP AUTO Algeria in its 2020 version, the representative of CLAS, the world-famous brand has made an excellent demonstration to a professional audience very interested.